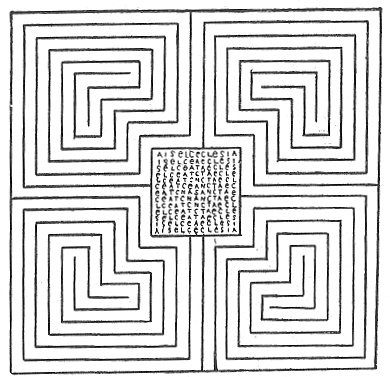 Labyrinth in Church of Reparatus, Orléansville, Algeria
A dear friend from college, Kate, recently flew out to spend a week with us here in Algiers. I hadn't realized just how desperately I needed her shoulder to cry on until she arrived. Kate is the sort of woman I aspire to be: emotionally mature, playful, great listener, the kind of friend who will go to unreasonable lengths to stay connected. No matter how big the storm she's going through (and she's faced some whoppers), she still manages to project serenity to those around her and never pulls the "my problems are much bigger than yours" card. Did I mention she's brilliant too?
We did our best to show her around, which led to conversations about the labyrinth that is this city. She mentioned that one thing she likes about prayer labyrinths is the way they always start by bringing you extremely close to the goal and then sending you far away from it. I got to thinking about that again today as I received a couple more rounds of undesired news.
For the past 7 months here, it feels like every time I've nearly got everything settled (housing, childcare, work, ministry permit, transportation, etc.), the rug gets ripped out from under me and I'm back at square one. I confess that lately I have failed miserably at my resolution to be a cheerful non-anxious presence to folks around me. I suspect my only friends/acquaintances here who haven't heard my complaints are the ones who call me their pastor. So today, as I missed a turn and drove round and round looking for a route home, I meditated on the thought that my adventures in Algiers are like the journey of a prayer labyrinth; the desired spot is always so tauntingly close, yet the journey weaves you all over.
When I finally made it back to the house (with my child now soundly asleep), I, out of curiosity, googled labyrinths in Algeria. It turns out that the
earliest known Christian labyrinth is located in Algeria
. Toggling over to my Facebook newsfeed, a friend had linked on my wall that the man who played Toby, the infant brother from the beloved Jim Henson film Labyrinth (if you've never watched it, go do so),
has just collaborated with some of my favorite actors to make a film.
Just a coincidence? Not in the surreal world I live in. ;)
Jim Henson's Labyrinth is overflowing with wisdom